In a couple of weeks, for the first time in several years, I'm running a role-playing gaming session, as opposed to 'just' playing one.
I've decided to start by trying a bit of interactive world creation with the players, as an exercise in creatively surrendering the gamesmaster's control to make something together.
In this post, and the comments that follow, we're going to start to create the setting together. If you're not in the game, don't hold back from making your own suggestions; we can't guarantee we'll use them, but if you're inspired by what you read we'd like to hear your ideas too.
The gameworld
For those of us with finite time, it's good to start with some published material, and then start adding to it and remixing it.
The starting point for this world creation exercise is Progenitor, a source book for the Wild Talents game. It's one of the best pieces of work in this area that I've seen in gaming for a long time - broad enough in its canvas that there are many places and times you can slot in a campaign; original enough in its detail that you find inspiration in many places.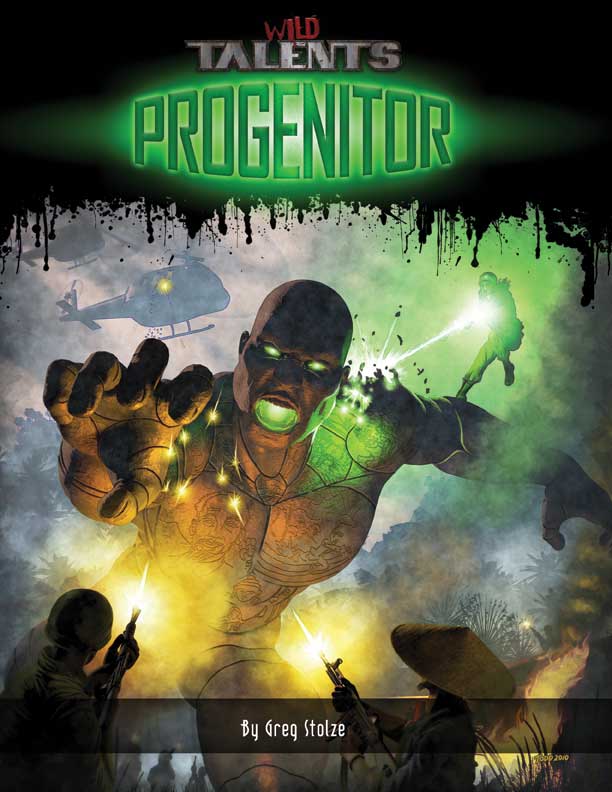 It starts with the idea that the first superhuman, an American woman named Amanda Sykes, is discovered in the late 1960's and slowly begins to infect the population with strange powers while fighting for the US in Vietnam. The world slowly starts to get very weird indeed.
Hot-spots for infection this early in the time-line are Washington DC and the Vietnam War.
The interview after the jump with Amanda sets the scene well and makes it clear that you're not dealing with world where everyone with powers has to dig spandex and capes. It's reminiscent of Aberrant, which I loved despite its material being wildly uneven in quality.
The setting
For the game, I'm focussing in on Atlantis, a small island in the Atlantic created in 1969 in the Progenitor timeline by a superhuman with earth control powers. Woozy from the bitter end of the summer of love, Cynthia Carls creates the island as a refuge from the conflicts of the United States, for humans and metahumans alike.
There's a great image from the book of this staggering act of creation here.
But the Progenitor material leaves lots of questions usefully unanswered, which is where we come in.
Some useful dates
April 1968 – Blurry footage from the Vietnam War leads US military to admit to the use of "metahuman soldiers"
May 1968 – reports from the war indicate that the Viet Cong also have strange destructive powers on their side.
June and July 1968 – battles between metahumans in Boston and New York - the first of their kind... certainly not the last.
August 1968 – North Vietnamese metahumans begin sabotage operations on US soil, apparently through teleportation.
March 1969 – Cynthia Carls creates small Atlantis – an island outside US territorial waters in the Atlantic.
July 1969 – The first monster created by Tina Shaw – a tiny homunculus created when she heals the sick – appears live on television
September 1969 – Atlantis now has approximately 100 citizens, as Cynthia Carls quietly spreads the word of her new utopia.
Key questions for players and anyone else who fancies suggesting ideas? Please reply in the comments
What striking features, flora or fauna might Atlantis have? Give us one example.
Suggest a character with superpowers who has sought sanctuary in Atlantis. What is their main power and why are they there? Who were they before they had powers?
Suggest a normal human character who has sought sanctuary in Atlantis. What did they do before they came to Atlantis and what did they do there?
It probably makes most sense at this stage for these initial characters to be American - but if you can think of a convincing reason why you might have come across an infected superhuman elsewhere, or have heard about Atlantis through other means than Cynthia and her rainbow nation of American refugees be my guest!
Don't worry at this stage whether these are the characters you want to play - your role here is to make sure the island is an interesting place and help to give it a ferret-sack-full of interesting people
I'm going to do this too over the weekend. Looking forward to seeing your ideas. :-)